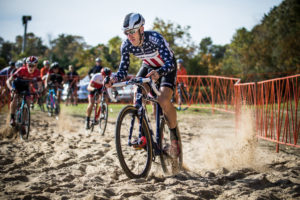 The Really Rad Festival of Cyclocross joins the USA Cycling ProCX calendar for 2018 featuring two days of UCI Category 2 racing. On November 3-4,  the Cape Cod Fairgrounds in Falmouth, Mass. will host the third annual event presented by International Cycling and Corner Cycle Cape Cod.
The event is a continuation of the Plymouth Festival of Cyclocross which was started as the Plymouth Cyclo Cross in 1977 at the Plymouth-Carver High School. One of the first cyclocross races in the northeast the race was host to the 1984 and 1986 USCF Cyclocross National Championships. Bill Sykes of International Cycling and Event Services, took over as sole race director for the Plymouth Cyclo Cross in 1999 and rebranded the race as the Plymouth Festival of Cyclocross. In 2015, the race was forced to find a new location and after an intensive venue search, the Cape Cod Fairgrounds were chosen. No longer in Plymouth and with Bill's son, Adam, now co-race director, the event was rebranded as the Really Rad Festival of Cyclocross and set off on a new trajectory of building a world class event which would appeal to beginners and seasoned professionals alike.
For 2018, Really Rad will again partner with the National Multiple Sclerosis Society as the charitable beneficiary of the event. Their programs provide invaluable support to those diagnosed with MS. The NMSS will be set up on site to provide information and registration opportunities for their BikeMS events. A portion for the proceeds for the RRFCX will go directly to the BikeMS group Team Spinal Tap which is run by Rebecca Hamel (née Sykes).
With two distinct race courses, racers will grind through fast, technical and physically demanding routes throughout the fairgrounds. Special attention to the course design ensures an excellent flow for riders of all abilities whether they are racing for themselves or riders who are locked in a head to head battle for the top prize.
The Cape Cod Fairgrounds provide a spectator friendly atmosphere for friends and family to take in the weekend's activities. With free parking and free spectator entry, fans can enjoy the fast paced race course surrounded by food trucks, beer tents, bounce houses and more as part of the fun filled festival.
Registration will open today, Wednesday, August 22 at 12pm ET on BikeReg.